Dear Club Members and Friends,
Well, here we are in April and the season feels like it is already warming up. Following a very mild and dry winter the recent rains of the last couple of months have been a welcome relief to the drought stricken region. Although the rainfall is not sufficient to completely ease the drought it has been well timed for the vineyard as we are into bud break and there had been quite some concern about root growth in what was nearly bone-dry soils before the rain started.
Features of the current season include planting a couple of acres of Pinot Noir at the Trinity Ranch property. Our trial rows appear to be performing well and so we have further invested in the variety. At this time our Pinot is the only wine we purchase fruit for. Despite having our own fruit available in 2017 we may well continue with the existing Pinot as well, because it is so good! As it happens we have just released our 2012 Pinot and it differs from the previous two vintages as we now get our fruit from a highly coveted vineyard in the Russian River rather than the previous fruit that was from Carneros/Sonoma Coast. The 2012 is altogether more elegant and tightly wound than the 2011, greater structure and, dare I say it, more Burgundy like.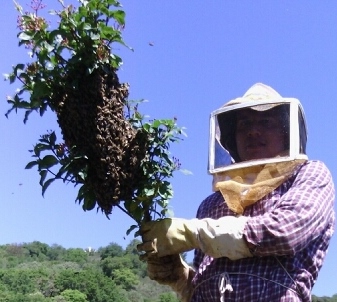 Another seasonal note is the heightened activity of the bee colonies. One morning we arrived to work with the news that Maximiliano had found a new colony up a lemon tree on the property. This is the third year we have had bees and the honey is outstanding. Aside from being another delicious item produced at the vineyard the bees are important to the entire ecology of the region and we are happy to be doing our bit to help promote the bees as they have been struggling in recent times to keep their populations up. It is just another piece in the puzzle of an environmentally conscious organic farm.
Part of the expansion on the property is to enhance the visitor experience and to that end, as well as to run the hospitality provided in our wonderful venue, we are pleased to bring on board Anthony DiCarlo.  Anthony brings a wealth of experience and great deal of positive energy to the team.  In his role as Estate Director he is responsible for the overall leadership of all Hospitality and Estate Consumer Sales, Wine Club, and all Sales Channels. Anthony has enjoyed the opportunity to positively influence the experiences of many visitors to the Bay Area at some of the most remarkable and diverse wineries and enjoys meeting club members! Our goal, with Anthony, is to create Sonoma's new winery experience in keeping with traditional Tuscan influences and an innovative take on hospitality.
Until the next newsletter…..
Ciao!
Martin Mackenzie
Winemaker
P.S. Please remember to join us on Facebook https://www.facebook.com/PetroniVineyards